You have unlocked a secret bio, written just for the curious reader. Artist's websites are often designed in an "art world" context, and like many of my peers, I take on the role of administrator, writing my own biographies, artist statements and curriculum vitae. I would like to offer you the extended, 2.0 biography, penned in a first-person, blog-format perspective.



Thank you for visiting. I am grateful you are here. To begin, this is me.

A RECORD

My name is Emilie (eɪmi-li); my pronouns are she/her. Emilie is pronounced like Amy + Lee stuck together, or "Eh-muh-lee". I was born in Québec City in so-called Canada, but I only lived there for three months of my life. My dad was a professional musician, and his job bounced us between Canada and the US until my family settled in my hometown of Pittsburgh, Pennsylvania when I was six years old.
I have citizenship in both the US and Canada, and now reside on the stolen, sacred and ancestral land of the sḵwx̱wú7mesh (Squamish), səlilwətaɬ (Tsleil-Waututh), and xʷməθkʷəy̓əm (Musqueam) nations, known colonially as Vancouver, Canada.

My ancestors gave me my roots, and my family gave me zeal: blood & guts, creativity & passion. As a settler of European (Scandinavian) descent on Turtle Island, I think about my heritage and how I came to be here. Taking note of the space that I occupy, I try my best to feel my impact, and take care of the earth that I walk on. I've learned to express gratitude and compassion for the souls that I encounter in my everyday life.

My brother and me with the Pittsburgh skyline in the background
We all inherit.


We also accumulate, whether that be joy, trauma, resentment, spirit, grief or fervor.

There is so much that encompasses a human being that it is impossible for each of us to fully understand ourselves, or to convey it and contextualize it for others. What I think is important, is to be real; to be true and reliable, if not for others, at least for ourselves.



At the time that I am writing this, I am thirty-five years old. I feel like I am just beginning to understand how necessary it is for me (and my psyche) to be authentic no matter the consequence.


I just want to be me, and I want you to be you.
There are many attributes that define who I am as a person. Some of these characteristics have been developed through experiences and circumstances that were beyond my control, while other elements of my personality have come to flourish because I have nurtured them.
I sometimes wonder if I inherited my addictions and mental disorders, or if these aspects of myself were circumstantial. The reality is, nothing is black and white. Although substance abuse and mental illness can be traced through multiple generations of my family, it's impossible to distinguish any causation to my chronic struggles. They just are, and it's part of my makeup, but it's not who I am.
---
AN ALTERNATIVE ARTIST'S BIOGRAPHY
︎︎︎ written in third-person
Emilie Crewe is an artist. She fell in love with time-based media in her early years of art school because she felt like she could be a painter, a sculptor, a composer and a musician all at the same time. Emilie grew up playing music and studying traditional fine art techniques, particularly painting, ceramics and black & white photography. The first public display of her artwork was at the Pittsburgh Zoo when she was in seventh grade. She painted a seahorse and wrote a blurb about how male seahorses take care of their babies. In eighth grade, Emilie won the "Best Artist" award at her middle school.
At the age of sixteen, Emilie Crewe failed the tenth grade and dropped out of high school. She went on to receive a General Education Diploma (GED) from the Commonwealth of Pennsylvania, a Bachelor of Fine Art from the Nova Scotia College of Art and Design University, and a Master of Fine Art from the School of the Art Institute of Chicago. For many years, she thought that to maintain relevance in the professional art world, she needed to have a career in the arts industry. Following the early death of her father in 2017, she had an existential breakdown and eventually sought treatment for substance abuse and chronic mental illness.
Emilie works professionally as a caregiver for people with disabilities. Her work as a personal aide pays the bills and offers her a sense of purpose, while providing service to folks in their everyday lives. She receives regular commissions, grants and honorariums as a working artist. Emilie strives to maintain a balanced lifestyle through routine therapy, medication, active sobriety, creative endeavors and walking. She loves animals, cathartic music with heavy bass, earthy smells during the turning of seasons, potato chips and before & after photos of almost anything.
AN EXTENDED AUTOBIOGRAPHY
︎︎︎ May, 2022; reading time = approximately 10 minutes | trigger warning: substance abuse, mental illness, death, grief
I followed the rules until ninth grade. I'm pretty sure this is around the time that I decided to begin making my own decisions for myself. Growing up, I was extremely shy, and had a wildly active imagination, choosing to live vibrant storylines in my head, all the while going about my everyday life and masking relatively terrifying social anxiety. I had friends, but I hated making plans. I preferred to spend my time alone on craft projects and playing with dolls and animal figurines at home. For a long time, I wished that I was a dog. It seemed like a much more interesting and exciting life to live as a wild, stray dog, like my chosen hero, Balto.

At eight years old, I began getting regular headaches. A formal diagnosis didn't come until I was eleven, when I was told that I had chronic migraine, meaning my life was made up of more than fifty-percent headache. I have spent many cumulative years of my life feeling sick and battling excruciating pain.

I am well-acquainted with my brain, and have worked with neurologists, gone through many diagnostic tests, trial medications and regimens to learn how exactly my brain and body best responds to treatment.
My mom & me on the first day of school at John Minadeo Elementary in Pittsburgh, PA
To cope is a verb that is familiar.
My folks were nurturing and loving parents, although there were complications and stress at home surrounding my father's drug and alcohol addiction. My parents were artists themselves and taught me to go after what I believed in. I was a righteous and conscientious youth. I joined the American Civil Liberties Union (ACLU), Amnesty International and the Sierra Club. My friends and I used to take the Greyhound bus down to Washington, DC to join in protest against the war in Iraq (this was freshly post 9/11 in the US). We went to local conferences for falsely incarcerated people, scooped soup at shelters, and lobbied our local politicians .
School was very limiting and I loathed authority. I remember sitting in the principal's office (where I was being reprimanded for skipping school) and telling Mr. Thorsen that
his
school was a "piece of shit". Although I attended the local creative and performing arts high school, I still felt like I didn't belong. I was suffocating in the education system. When I look back now, I can see that I was suffering with extreme anxiety, depression and the obvious chronic pain.
Like many teenagers, it was a rough time, but I didn't see it for what it was then.
In fact, I felt quite alive with anger. I was vivaciously obsessed with Frida Kahlo and spent hours painting and developing my own black + white photos at a local art space for teenagers.
I purposely failed classes, didn't do any work and skipped school regularly. Truancy officers were showing up at my home, and after some long, arduous talks with my parents, I informed them that I wasn't going to go to school anymore. There wasn't a lazy bone in my body. I had lots of plans to spread my wings: to study, to write, to draw and paint. I wanted to be able to exist beyond the bounds of the American public school system, which wasn't working for me.
Pages from my highschool sketchbook, c. 2002
I have since apologized to my mother for the pain that some of my behavior must have caused her. It hurts to look back and try to understand what certain experiences must have been like for my parents. What I know now, is that I felt desperate and needed change, and there was only one way out for me at the time.
At sixteen, I dropped out of high school. I failed the tenth grade, and moved out of my childhood home and into an apartment with my then-boyfriend, D. I worked full-time in a café and spent my spare time creating art, reading, running and smoking weed. I had a decent fake ID that I'd bought in the back room of a bodega on MacDougal Street in Greenwich Village, NYC. D and I would grab 40s of Saint Ides malt liquor at Kazansky's Deli and get wasted in the graveyard. It was quiet and empty in the middle of the night. We could drink and smoke and laugh and sing.

My paintings at the time consisted mostly of portraiture. Expressive gestures and bright colors mapped out facial landscapes. I was inspired by Frida Kahlo, Geogia O'Keeffe, Alice Neel and Elizabeth Peyton. My mom would take me to Home Depot so I could buy large sheets of masonite board. I would gesso 4ft. x 4ft. boards in my apartment and use big, fat brushes and oil paint.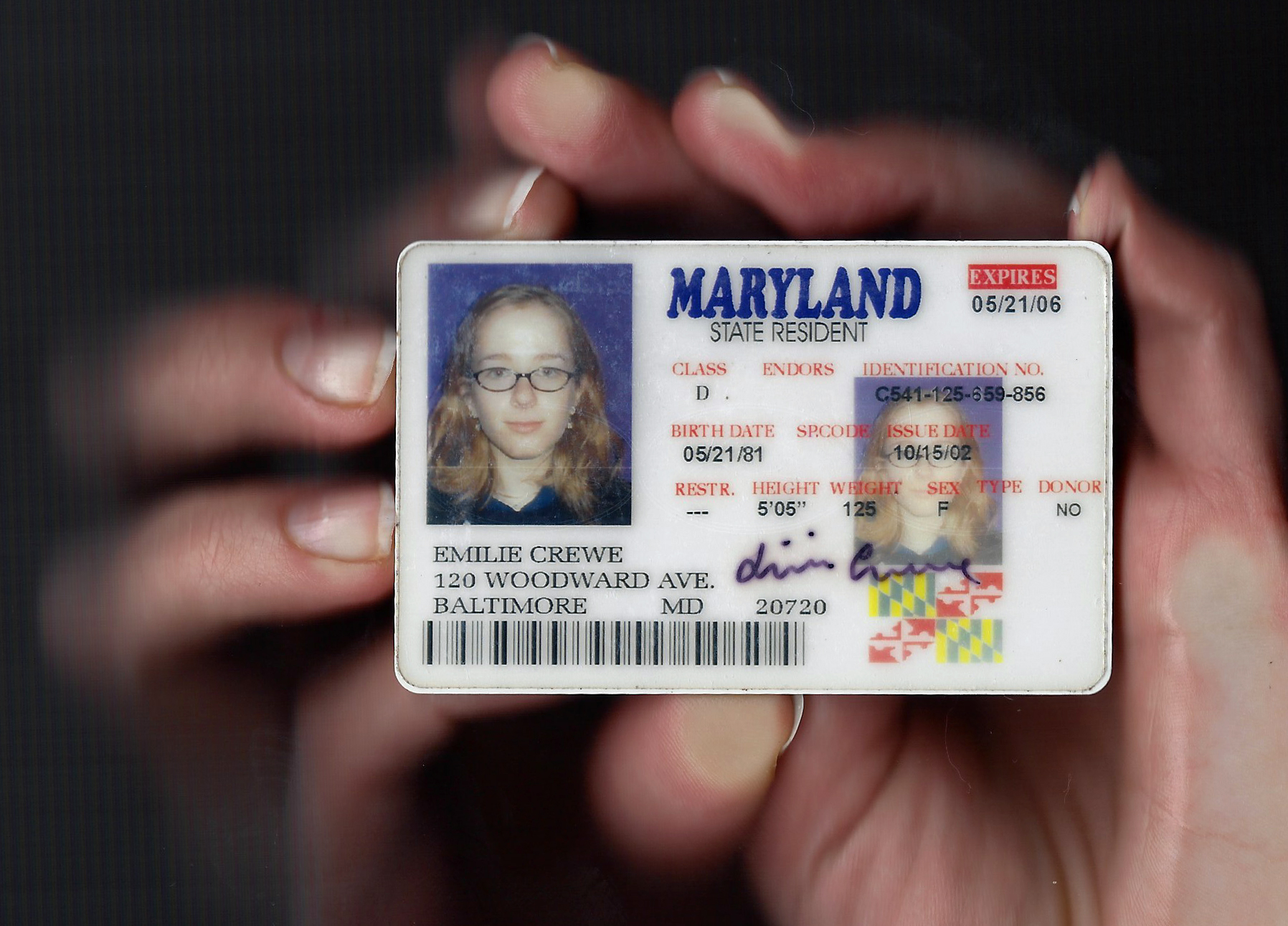 My fake ID that I got when I was fifteen
Self portrait, 2003 (sixteen years old); oil on masonite, 48" x 48"

Getting fucked up wasn't all that there was for me. I'd tried a wealth of drugs by this time in my life (lots of pot, uppers of all kinds, painkillers of all kinds, hallucinogens of all kinds, and some hard drugs that I prefer not to name) and yes, I was intoxicated with being intoxicated. At the time, I'm certain that I thought I was partying, but now I know I was enjoying the escape. It wasn't always fun. Sometimes it was scary, and sometimes it was boring. Sometimes there was a lot of vomiting, blackout periods or occasionally a loss of consciousness. I try not to dwell too much on the danger of it all.

My drive to go to art school is what compelled me to get my General Education Diploma (GED). I'd always known this was the path that I wanted to go down, and had planned this alternative route before I dropped out of high school. At eighteen, I left D and moved to Halifax, Nova Scotia to go to art school.


My General Education Diploma (GED)


The sense of freedom that I had, being so far away from home, completely on my own, was everything to me.
My years at the Nova Scotia College of Art and Design brought me out of my shell in more ways than I can count. I began to develop a clearer sense of myself and gain more confidence as a young person navigating their place in the world. Alcohol was a great way to relieve social anxiety. Little did I know that I would continue to drink "like a college kid" (and even more so) until I was thirty.
Art school exposed me to conceptual ways of creating work. I began to think beyond the canvas and develop an understanding of what it means to maintain an active art practice. University is a luxury, but it is also intensely challenging, strenuous and cutthroat if you take it seriously. The people that I met during my time in Halifax changed my life, and I still maintain friendships with many of them. I look back on this time with tremendous nostalgia and amazement at how my body was able to function while going to school, working a part-time job and partying so damn hard. When did I sleep?
Many people told me that I would never get into one of the big grad schools. They are notoriously competitive and I was still a rookie, inexperienced, young artist.
That year, the winter in Halifax was particularly rough. I was living in a townhouse with six people. We didn't have heat and we wore our winter coats inside, smoking cigarettes and drinking jugs of Carlo Rossi wine. It sounds romantic, but it was disgusting and terribly cold. I loved my home and my roommates. None of us shovelled snow and the mail-carrier didn't come until the walkway out front thawed in the spring. I received notification that my application had arrived at the School of the Art Institute of Chicago at the same time that I got the letter that I was accepted into graduate school. This is because a massive lump of mail appeared one sunny afternoon.
In the fall of 2009, I moved to Chicago and began working towards my master's degree. For the first time, I had a studio space all to myself. I slept there, I ate there, I drank there. Sometimes I would take the train home at 2am and stop at the bar along the way. There was a well-known blues bar that was open until 3:30am that was just down the street from my apartment. I saw a lot of blues music while I lived in Chicago. I saw a lot of art, too, and my practice flourished.
Art school is harder than you think. It'll wear you down and break you into pieces.

It'll force you to grow in ways that you didn't expect, and it will also shelter you from the loneliness of being an independent artist floundering around without it. It is a privilege to be amongst critical thinkers, creators and a wealth of resources.
Although I also made life-long friends in Chicago, I never really felt like the city was meant to be my long-term home. I shared the common dream of many artists to move to New York City. My best friend from back home lived in Brooklyn and had a place for me to stay. Her boyfriend was going to help me get work. Before taking the plunge, I thought that I would go spend some time with my grandmother who lived in Burnaby, British Columbia. I went off to Canada with the thought that I would stay with my Mor Mor (
mother's mother
in Norwegian) for a few months in the summer of 2011. Long story short, I never left.
In Vancouver, I spent approximately five years working in various forms in the arts industry. I worked in commercial art galleries, as a workshop assistant for a local craftsman and started my own shop where I sold local artisanal goods and artwork. My art practice was gently maintained, but I was more focused on how to pay the bills.
When I was twenty-six, my dad was diagnosed with a terminal illness. His alcohol dependency had caught up with him, and he had cirrhosis of the liver. He died a few years later when he was fifty-six years old. I was twenty-nine, and it sent me spiralling into a severe, existential depression. Losing my dad was traumatic, but it helped me to eventually confront my own problems with substance abuse. As painful as it is to acknowledge, so much life has come from his death.
When facing my mental illness and navigating sobriety , I began to write, delving deep into new ideas about music. I wanted to create new work that was inspired by musical composition and structure, which was essentially paying tribute to my late father, a trombone player. In 2019, I was awarded my first grant from the Canada Council for the Arts. When I opened the email, I wept, mostly for my dad, who I imagined was with me in that moment.
What does it take to be a great artist? The chaos that can arise from substance abuse and an unbalanced brain is dicey. Just existing arouses feelings of uncertainty, and when you mix that with anxiety, a mood disorder and alcohol, the loss of control can be detrimental. It's not romantic and it's far from creative, at least for me.


I think many artists wonder if they can find their stride if they were once alcoholics and are now sober. Is it possible to create good art while taking antidepressants and mood stabilizers ?
Addiction is in my blood, so is mental illness. I don't want to die when I'm fifty-six like my dad did. There are a lot of projects that I want to work on, and new ones that haven't even begun to bloom yet. There are more years of sadness to come, and more years of recovery to trudge through. There is also joy, friendship, love, adventure and all the cheesy good stuff. The tortured, penniless artist is a romanticized archetype that I don't want to embody. It's not interesting or fulfilling. It's tragic and it reveals an inadequate medical system, failing governments, and a lack of compassion.
It is a privilege to be where I am now, healthy and curious about the future, as uncertain as it is. I was lucky to have access to healthcare here in Canada, as well as free addiction recovery services, therapy and pharmacare. I was able to find my way through a system that didn't turn me away, and I am grateful for the support. It is important to acknowledge that not everyone has this type of access or service. Sometimes I wonder what it would be like if I looked different, or sounded different, or if I went through this experience in the US, where I grew up and where my father died.
6 months into recovery
1 year into recovery
Getting older is pretty neat. I've watched a hell of a lot of Oprah over the years, dating back to when her talk show was on TV at 4pm every weekday. I've read her books, I've listened to her podcast, Super Soul Sunday. I'm a big fan. She's maintained in her talks that life really began for her at fifty. Here I am, at thirty-five, jotting down a small portion of my story up until now. There's a ways to go until fifty, but I'm here for it, and able to feel all of it. As I write this, I have four years and six months of sobriety under my belt. I think less of my addiction, and more about what I want to create and put out in the world.



give me a shout if you want to talk about stuff: emiliecrewe@gmail.com
︎